Info:
One way transfer from the airport to a hotel or from your hotel to the airport.

Cars are available for you 24/7/365
Book Airport Transfer:
Prices:
38 EUR 1-4 people
Prices include 21% VAT
Transfer from Prague Airport
Fast and efficient transfer for a fixed rate from the Prague Vaclav Havel Airport to any point or address in the Prague city center and vice versa. We provide Prague airport transfers by a personal car for 1-4 people.
Professional and trained drivers, as well as clean and well-maintained cars, are available for you 24/7/365. The journey takes approximately 30-45 minutes. The driver will be awaiting you in the arrival hall of the Prague airport, holding a sign with your name on it. If you are departing the city, the driver will pick you up at the address of your accommodation.
Nothing is more important to us than treating our customers well.
Highlights:
The best price!
Nonstop service!
Air-conditioned cars!
Flexible time and place of departure!
Prague airport transfers includes:
Luxury air-conditioned, middle and upper class cars
Best quality service in well-maintained cars
English speaking driver
Not included:
If you require a child's booster seat, please request it in your order
Transportation from and to Prague Airport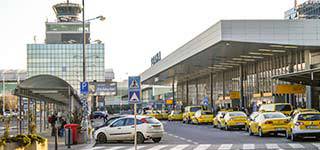 For Transfers to Prague Airport, please enter your flight details and departure terminal at Ruzyne Airport and the address of your accommodation where you would like to be picked up.
For Transfers from Prague Airport to your city accommodation, please enter you flight details, time of your arrival, and the address of your accommodation where you would like to be dropped off. Please, enter the exact time the driver should arrive.
Please note:
The driver will wait max. 30 minutes after your landing, than he will try to contact you by phone. Never leave the arrivals hall before talking to the driver. If you do not see us immediately, do not panic, call us or wait as we are not far away. If the driver waits over 30 minutes, the traveler will be charged CZK 100 per 15 minutes of waiting.
Gallery – Airport Transfers
Our tours:
Client Testimonials
"
Dobrý den, Včera 7.6. v 19.00 jsem absolvovala s dcerami a 11-ácti letou vnučkou akci "Pražský hrad za soumraku" . Díky průvodci Tomášovi, to byl pro nás nezapomenutelný zážitek. Nejenže má vynikající znalosti a vědomosti o naší historii, ale navíc bylo znát, že ho to baví, zajímá, byl vstřícný všem dotazům a navíc vtipný. VYNIKAJÍCÍ!!!!!!!!!!!!!!!!! Více takovýchto průvodců. Děkujeme.
Dana, Martina, Veronika a Terezka
"
Dobrý den, chtěla bych touto cestou poděkovat za úžasný zážitek, který nám poskytla Prohlídka Pražského hradu za soumraku. Hlavní dík patří průvodci Tomášovi, který nás nejen prováděl ale prohlídku okořenil pověstmi a historkami, které nejsou až tak známé. Ještě jednou, děkujeme (na prohlídce jsme byli v pátek 10. ledna 2014 od 18 hodin).
Ivana a Karel Přibylovi, Liberec
"
The guide Tomas was very helpful, speaks a good english and high knowledgeable. The lunch was very good. In the boat trip i could see a diferent point of view of Prague. And the last part, in the castle was amazing.
Joao Velloso Itabira, Brazil
"
My wife and I took this tour to get a broad experience of all the attractions in Prague. Tomáš was our guide, and he was extremely knowledgeable about the history, culture, architecture, folklore, and people. We were overwhelmed with good information. The tour is really all inclusive, with a meal and a boat ride on the Vltava. Tomáš was very easy to understand, walked and talked at a good pace, and was glad to answer our questions, even the dumb ones. This is a very good way to see the major landmarks in Prague and experience the city.
Bob K, Prague
"
David was our tour guide and he was really friendly, gave us a great tour with some spooky stories but also covering a bit of history of the buildings and city which was great and really made the city come to life. It is so much better walking through a city when you know some of the legends and history about the place! The tour was the perfect length and we all really enjoyed it. It is not the scariest of tours which was perfect for us because I am a wimp but it was entertaining and David was brilliant, well worth it.
B D Skipton, United Kingdom
"
"Klasse ! Pünktlich und freundlich !!!" Sehr gute Bewertung. Trotz Flugverspätung, war der Fahrer nach kurzer Benachrichtigung pünktlich am Flughafen !!
Juergen from Hoehenkirchen, Germany
"
This is a really great way to break up the sight seeing - our guide, Brian, was really entertaining and knowledgeable and the ghost stories of Prague were fascinating! We also did the extended paranormal tour of the underground tunnels beneath Old Town Square which was a wonderful spooky extra and well worth the small extra charge. I'd recommend this to anyone, whether you believe in things that go bump in the night or not...
J S, London, United Kingdom
"
Our guide Emanuel [a Portuguese who spoke good clear English in an entertaining way] gave a fascinating tour of old dwellings - some around 800 years old, situated underneath the Prague Town Hall. The hour long tour should appeal to anyone with an interest in archaeology or history, particularly if not too upset by the occasional gruesome detail.
David B, England
"
We went on the tour on 4/12/12, our guide was Rebekah. We did the extended tour which included the underground tunnels. Our guide was great, friendly, fun and full of the Normal tales you find on this kind of trip. Almost every city we visit we end up on a ghost tour, we enjoy the stories and getting to see different parts and perspectives of a city. Ok we didn't see any ghosts, not an earth shattering surprise but we enjoyed it all never the less and thought it was very good value for money!
Gordon-Joanne Northumberland