Prague's Top 10 without a map? Here is the walking guide for you! You can visit the most famous Prague sites in an easy to follow path so you won't be walking in circles to visit some hotspots. Seriously, you don't need a map to follow this guide.
Prague walking, cruise or tram tours
Start at the top of Wenceslas Square (metro station Muzeum on lines A, C). If you are looking down the square with the Horse and St Wenceslas statue in front of you, you have behind the famous National Museum of Natural History. It was built in 1888 to house many captivating nature exhibits. The square itself was established as a horse market in theNew Town, which Charles IV established in 1348. Now, it is a hub of commerce for Czechs and visitors alike. At the base of Wenceslas Square, turn right onto Na Prikope. You will notice it is a much wider street than most of Prague's street. This is because it once was part of the town's fortification moat. Follow Na Prikope until taking the first left onto Havirska street.
After one block you will be standing before The Estates Theatre established in 1773 to rival the grand theatres in Vienna. Mozart loved Prague so much that he chose the Estates Theatre to house the world premiere of Don Giovanni.  The building maintains the same architecture it boasted in the 18th century. And, now it is part of the National Theatre making it a popular site for Mozart lovers and music amateurs alike to seek out ballet and opera performances here.
From the front of the Theatre, follow Zelezna street into Old Town Square where you can see the famous Astronomical Clock dating from 1410 on the exterior of Old Town Hall. You can walk through the Town Hall to learn local history. It is also possible to climb up or take a lift to the top of the clock tower for picture taking and soaking in the view. Or, you can check out the historic and gruesome tours of Town Hall's underground before walking past the Jan Hus memorial statue and bearing to the left through Franz Kafka square to cross the street onto Platnerska.
After a couple blocks, you will arrive in front of Clementinum. This large complex was built in1556 as a Jesuit college and monastery, which contains an astronomical tower, 2 chapels, 2 cathedrals, 6 courtyards, and a section of the National Library. The tower is open to visitors for enjoying a bird's eye view. And, many people love attending the classical music concerts in the Baroque Mirror Chapel. Take the exit just opposite the tower and turn right onto Karlova Street.
Charles Bridge
Just one block later you will cross over tram tracks to be on the famous statue-decorated Charles Bridge.  This stone bridge has endured many floods and storms, but has never been fully destroyed since it's founding in 1357. It still remains Prague's most trafficked bridge. Take pause at the statue of St John of Nepomuk. Rubbing the bronze dog will bring you good luck and ensure your return to Prague.
From the Lesser Town side of the Bridge, follow Mostecka Street into Malostranske Square and turn left onto Karmelitska street. At Karmelitska 9, you will find the Church of our Lady Victorious containing the famous Infant Jesus adorned in his ornate robes. The church's name comes from the  painting of Mary which brought victory on the battlefield. The Infant Jesus was a gift from the Princess Polyxena von Lobkowicz in the 1550's to the Carmelites of Prague. Since then, many world leaders have presented the baby Jesus with orate gowns that are on display upstairs in the church. Most recently, in 2009 Pope Benedikt XVI crowned the Infant and he still wears it.
Prague Castle
Continue on to the Prague Castle by taking tram 22. Cross the street and a few meters on the right from the church entrance you will find the stop Hellichova. Go 3 tram stops to Prazsky Hrad. Disembark the tram and cross the street to go directly into the Castle grounds where you will see the Gothic St Vitus Cathedral, 4 towers, the magical Golden Lane, St George's Basilica (one of Prague's oldest buildings), and the Old Royal Palace among other attractions. The combo ticket is valid for 2 days, so you can see part of the castle on one day and finish on the next day. Going after dark gives a different, enchanting perspective than you could see by day.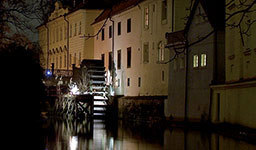 Taking in the top 10 famous sites is only part of your Prague adventure. To get the full experience, you need to take in some of the local culture as well such as the Black Light Theatre in Old Town, some classical concerts in historic locations such as the Municipal House, Rudolfinum, or Cathedrals all around town, or even take a day trip to an outlying town, like Terezin which was a Holocaust holding camp or Kutna Hora where there is a church made of bones serving as memorial to plague victims. Hiring a private guide or taking a private shuttle ensures comfort and security without getting lost!
Prague City Tours: Take one of our tours with a professional tour guide.
Our tours:
Client Testimonials
"
Dobrý den, Včera 7.6. v 19.00 jsem absolvovala s dcerami a 11-ácti letou vnučkou akci "Pražský hrad za soumraku" . Díky průvodci Tomášovi, to byl pro nás nezapomenutelný zážitek. Nejenže má vynikající znalosti a vědomosti o naší historii, ale navíc bylo znát, že ho to baví, zajímá, byl vstřícný všem dotazům a navíc vtipný. VYNIKAJÍCÍ!!!!!!!!!!!!!!!!! Více takovýchto průvodců. Děkujeme.
Dana, Martina, Veronika a Terezka
"
Dobrý den, chtěla bych touto cestou poděkovat za úžasný zážitek, který nám poskytla Prohlídka Pražského hradu za soumraku. Hlavní dík patří průvodci Tomášovi, který nás nejen prováděl ale prohlídku okořenil pověstmi a historkami, které nejsou až tak známé. Ještě jednou, děkujeme (na prohlídce jsme byli v pátek 10. ledna 2014 od 18 hodin).
Ivana a Karel Přibylovi, Liberec
"
The guide Tomas was very helpful, speaks a good english and high knowledgeable. The lunch was very good. In the boat trip i could see a diferent point of view of Prague. And the last part, in the castle was amazing.
Joao Velloso Itabira, Brazil
"
My wife and I took this tour to get a broad experience of all the attractions in Prague. Tomáš was our guide, and he was extremely knowledgeable about the history, culture, architecture, folklore, and people. We were overwhelmed with good information. The tour is really all inclusive, with a meal and a boat ride on the Vltava. Tomáš was very easy to understand, walked and talked at a good pace, and was glad to answer our questions, even the dumb ones. This is a very good way to see the major landmarks in Prague and experience the city.
Bob K, Prague
"
David was our tour guide and he was really friendly, gave us a great tour with some spooky stories but also covering a bit of history of the buildings and city which was great and really made the city come to life. It is so much better walking through a city when you know some of the legends and history about the place! The tour was the perfect length and we all really enjoyed it. It is not the scariest of tours which was perfect for us because I am a wimp but it was entertaining and David was brilliant, well worth it.
B D Skipton, United Kingdom
"
"Klasse ! Pünktlich und freundlich !!!" Sehr gute Bewertung. Trotz Flugverspätung, war der Fahrer nach kurzer Benachrichtigung pünktlich am Flughafen !!
Juergen from Hoehenkirchen, Germany
"
This is a really great way to break up the sight seeing - our guide, Brian, was really entertaining and knowledgeable and the ghost stories of Prague were fascinating! We also did the extended paranormal tour of the underground tunnels beneath Old Town Square which was a wonderful spooky extra and well worth the small extra charge. I'd recommend this to anyone, whether you believe in things that go bump in the night or not...
J S, London, United Kingdom
"
Our guide Emanuel [a Portuguese who spoke good clear English in an entertaining way] gave a fascinating tour of old dwellings - some around 800 years old, situated underneath the Prague Town Hall. The hour long tour should appeal to anyone with an interest in archaeology or history, particularly if not too upset by the occasional gruesome detail.
David B, England
"
We went on the tour on 4/12/12, our guide was Rebekah. We did the extended tour which included the underground tunnels. Our guide was great, friendly, fun and full of the Normal tales you find on this kind of trip. Almost every city we visit we end up on a ghost tour, we enjoy the stories and getting to see different parts and perspectives of a city. Ok we didn't see any ghosts, not an earth shattering surprise but we enjoyed it all never the less and thought it was very good value for money!
Gordon-Joanne Northumberland