Prague sightseeing
Prague is a lovely historic city, unique in architecture, culture, and activities for every type of visitor. There is so much to see and do that you could easily fill up an agenda of activities for several weeks without ever getting bored, but even in a few short days it is possible to do some sightseeing and take in some of the town's highlights at all times of day, solo, in groups, or on guided tours.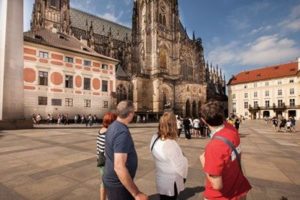 Prague sightseeing on foot is the best way to see the range of architecture from ancient times up through modern era. You can best enjoy the views from the walkway directly in front of each building. Actually, some of the great locations are not accessible via any method other than walking. For example, the underground halls and rooms beneath the Old Town Hall of Old Town are only open to visitors on foot.
Exciting Prague sights
Walking through the cobbled streets with a human guide gives you a very informed and interesting insight to this Magical City. On foot, you can see the Kinsky Palace or the building where Franz Kafka was born, walk past the big horse statue of St Wenceslas on the square bearing his name, pad down the halls of the Old Royal Palace and glide through the great library at Strahov Monastery. You can learn about the culture through seeing and hearing about a mix of historic and legendary events. Hearing stories, of ghosts and historic events or people, as you walk will make the city come to life – endearing Prague to your heart and mind.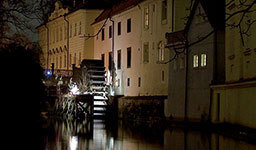 One pleasant way to get familiar with Prague without walking is on a bicycle or E-bike. You can rent an individual unit to go sightseeing Prague with a private guide or go on a group guided tour. This is a quick and comfortable way to get an up close view of the town while learning about what you see as you are in route. You can ride by the Charles Bridge, Loreto Church, the Prague Castle and many other beloved sites. If you prefer the sporting view for Prague sightseeing, but on your own course instead of that set by a company or guide, riding on bike with a map makes a fun and healthy day down by the river or riding around town. Of course, if you or a companion don't have good balance it might be advisable to merely go on foot.
Even though the number of sites in Prague seem limitless, there is just as much to see in the surrounding environs. Going to outlaying villages and towns add seasoning to your taste of Prague. Some such popular towns include Lidice which the Nazis razed to avenge the assassination of Heidrich; the town of Kutna Hora where you find a Gothic cathedral and a church made from bones; the castle and quaint town of Karlstejn; Melnik, which features a Renaissance castle and wine cellars; or even Karlovy Vary which is full of natural springs said to bring health but, if they fail, you can try Dr. Becher's herbal cure-all liquor Becherovka, a true authentic Czech drink.
Prague private tours with professional guider
To get to other towns, the public transportation from Prague's city center is reliable, cheap, and relatively quick. But, if you don't speak Czech it may be frustrating or confusing to make transport connections and find your way around these small towns.
Hiring a private guide with his or her all-inclusive care in navigating the journey, giving the history and stories, translating menus and site signs, etc. will ensure comfort with quality and stress-free entertainment. Usually, private guides have a higher price per hour than your average tour around town, but if you split the cost among several family members or friends, the price comes out about the same or even cheaper than if you were to go on a "store-bought" 1-hour tour.
No matter the mode of getting around town, no matter what you see, the more involved you get in your Prague adventure, the more you will enjoy the memories you make in this magical city.